2020-02-27
Khojaly Genocide: Azerbaijan Supreme Court should issue arrest warrants against Armenian leaders & military commanders for war crimes
Azerbaijani Courts have jurisdiction in all occupied territories, and Chief Justice of Supreme Court should take a Suo Motto notice on 'murderous crimes against civilians (genocide), war crimes and crimes against humanity committed by invading Armenian Forces in the town of Khojaly on 26th February 1992. Azerbaijan state laws should apply to all of them as crimes were committed on Azeri soil. The International community should differentiate between a victim Azerbaijan and perpetrator Armenia.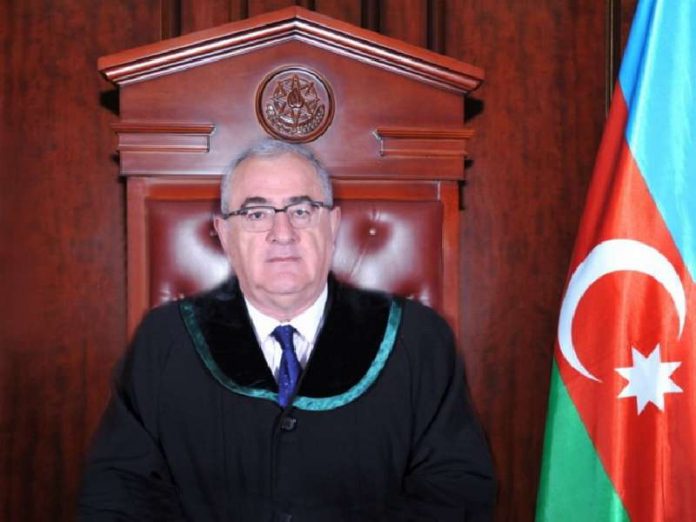 Azerbaijan is victim of aggression and terrorism by the former neighbours Armenia and rulers like Russians for sometimes in the form of occupation of its territory in Nagorno Karabakh and genocide in town of Khojaly on 26th February 1992, when Armenian Army Units attacked and massacred innocent population of the town. Armenians Army killed 613 ethnic Azerbaijani Turks, including men, women, children, and babies. Over 100 Azerbaijani citizens were injured and more than 1215 were taken into military custody. Violating all military rules and international norms invading Armenian military forces destroyed the houses, burnt down properties and businesses as well as religious places with impunity.
Under UN law War is always an open option for Azerbaijan to liberate its territories under Armenian occupation, but for that, national and international opinion should be on its side. For that Azerbaijan need to have robust foreign policy, full risk assessment of the issues and most importantly invest in media and international education programs for foreign journalists and media Worldwide.
In an interview British Human Rights writer and Journalist Dr Shahid Qureshi said:
A), 'Azerbaijan as state should initiate the process criminal prosecution against Armenian war criminals in local courts as crimes were committed on its soil and it has legal jurisdiction according to international law'.
B), "Azerbaijan police should issue international arrest warrants against those who ordered and carried out genocide against unarmed civilian men, women and children,".
C), Azerbaijan should have a criminal trial in an Azeri Court against leaders who ordered the genocide, and Court Martial in an Azerbaijani military court against the Armenian Military and security officers and soldiers who were involved in these crimes against humanity against civilians population, men, women and children and criminal damage to the properties.
D), Azerbaijani Courts have jurisdiction, and Chief Justice of Supreme Court should take a Suo Motto notice against the Armenian war criminals. Azerbaijan state laws should apply to all of them as crimes were committed on Azeri soil."
E), The Attorney General of Azerbaijan should issue arrest warrants of all those involved both civilian leaders and military commanders of Armenia and write to ICC (International Criminal Court) and Interpol for their arrests as well as travel ban'.
For that legal precedent of Chilean General Augusto Pinochet case can be applied here when a Spanish court issued an arrest against him and it was automatically activated when General Pinochet stepped on British soil in the 1990s.
General Pinochet Case in United Kingdom:
It became an address to remember: 20 Devonshire Place, Marylebone. For it was here, behind the front door of The London Clinic, that former Chilean dictator General Augusto Pinochet was arrested on the night of October 16, 1998. Pinochet, who was 82, was in the UK recovering from back surgery at the time, but was woken up by police and informed that he was under arrest for crimes against humanity on the basis of an international warrant issued by Spanish judge Baltasar Garzón.
The specific allegations concerned not only human rights abuses committed against Spanish citizens in Chile during the military regime established after the coup of September 11, 1973, but also the murder, torture, hostage-taking and genocide of Chileans and other nationals.
Overnight, the London Clinic arrest became a symbol of hope for justice and redress. For Pinochet – who died in 2006 – was, first and foremost, one of the most infamous dictators of the 1970s and 1980s. Pinochet's 1973 military coup overthrew Chile's democratically-elected president, Salvador Allende, and installed a brutal and repressive mandate in his place. Indeed, the dictatorship's abuses gave rise to one of the largest human rights campaigns in the world.
Following a dramatic legal battle, the British courts rejected Pinochet's claim that he was entitled to immunity as a former head of state and ruled that he could be extradited to Spain to stand trial. Although this never occurred – UK home secretary, Jack Straw, ultimately allowed Pinochet to return home after 503 days of arrest on the grounds of ill health – Pinochet's detention marked a turning point in the development of international law and international relations.
Why it matters
It set two important precedents. First, it revitalised the principle of universal jurisdiction, which allows states or international organisations to prosecute individuals regardless of the place where the crimes were committed and the nationality of the perpetrators and victims. Second, it withdrew the immunity of heads of state or ex heads of state for human rights violations.
Although the Geneva Conventions of 1949 requested that, 'states establish and exercise universal jurisdiction for war crimes and crimes against humanity, this principle had not been widely invoked in national tribunals prior to Pinochet's UK arrest. Apart from the trial of the German-Austrian Nazi Adolf Eichmann in Israel there were few examples of cases brought to courts on the basis of such a doctrine before 1998.
But as a result of the Pinochet case, the notion of sovereignty, traditionally understood as the right of a state to respect the independence of other states, had to be redefined. The idea that governments are unaccountable to courts located in foreign states for their domestic policies changed, so that all states now became subject to fundamental human rights norms. Never again could tyrants use immunity as a means to avoid criminal responsibility.
But 20 years on from that landmark event, what does it mean for global justice today? Has it really affected the prospects of holding political leaders to account for human rights abuses?
Undoubtedly, the Pinochet arrest in London offered an enormous window of opportunity to activists, lawyers, victims and non-governmental organisations to establish transnational networks to pursue human rights accountability.
Not only were Chilean courts persuaded to re-examine amnesties that protected many senior individuals in domestic legislation, but other Latin American countries, such as Argentina and Uruguay, also reopened human rights investigations into perpetrators of atrocities. The decision of the UK's House of Lords to narrow the charges against Pinochet only to cases of torture, also gave particular visibility to Chile's torture survivors, driving the creation of a Chilean National Commission to investigate those crimes.
A fairer new world?
In Europe, meanwhile, Spain turned its attentions to addressing crimes committed during the Franco era, while courts in Belgium, France and Germany extended the Pinochet precedents to human rights violations that had taken place beyond their territorial borders. The tireless efforts of human rights activists and victims that led to the 2016 conviction of the former dictator of Chad, Hissene Habré, for crimes against humanity, for example, was unquestionably inspired by the Pinochet arrest in London. Habré was arrested and tried in Senegal and sentenced to life imprisonment.
This rapid expansion of international and domestic trials to hold political leaders to account for human rights abuses forms part of a trend that political scientists have called the "justice cascade". This does not mean perfect justice, but it has helped to legitimise the norm of individual criminal accountability for human rights violations.
The initial enthusiasm unleashed by the Pinochet case has been replaced, however, by growing scepticism in the last decade. States such as Belgium and Spain, once considered pioneers in embracing the doctrine of universal jurisdiction, have limited the power of their courts to pursue criminals outside their frontiers. In both cases, these limitations came in response to the demands of powerful states, such as the US, Israel and China, who are reluctant to see their own citizens stand trial overseas for such crimes.
The international community's inability to end the massacre of civilians in Syria, for example, has also reinforced the pessimistic idea that human rights only prevail when the strategic interests of major state actors are not at stake.
But there is reason for hope. A report published in March 2018, by Trial International, paints a more optimistic picture. Reviewing 58 cases involving 126 individuals, the study shows a sharp increase in the number of cases brought to court based on the principle of universal jurisdiction. Indeed, the significant limitations of the International Criminal Court (ICC) to pursue human rights prosecutions – Russian and Chinese UN Security Council vetoes prevented Syria being referred to the court, for example – seems to have triggered a vigorous resurgence in the application of this doctrine via the national courts of third countries.
The promise of effective global justice that came with Pinochet's detention in London hasn't yet been realised. But the positive changes triggered since 1998 were made possible thanks to transnational networks of activists, lawyers, victims and human rights institutions who were able to exert pressure on states to change how they defined justice. The lesson is that while moments such as the Pinochet arrest can open windows of opportunity, the world also needs individuals, organisations and governments that are willing to make the most of them – and change things for the better.
http://theconversation.com/general-pinochet-arrest-20-years-on-heres-how-it-changed-global-justice-104806
A Chilean court has convicted the former army commander-in-chief of complicity in the deaths of 15 people following the 1973 military coup. General Juan Emilio Cheyre was sentenced to three years and a day under house arrest.
He is the most senior figure to be held accountable so far for abuses carried out during the regime of General Augusto Pinochet. The killings were carried out by the notorious "Caravan of Death".
https://www.bbc.co.uk/news/world-latin-america-46160437
War is always an option for Azerbaijan to liberate its territories under Armenian occupation but for that, national and international opinion should be on its side. For that Azerbaijan need to invest in media and international education programs for foreign media Worldwide.
'Khojaly Massacre should be recognized as genocide by the international community, the Organization of Islamic Cooperation (OIC), and Arab League have the responsibility to bring this issue to the attention of the world.
"OIC and Arab League must recognize this as genocide and demand culprits brought to justice of this war crime against unarmed innocent civilians,"
'Azerbaijan has to stand up on its feet with robust foreign policy, effective media policy and this media campaign about Khojaly tragedy should not become an annual event'.
Finally, All, you need a is a will for justice and rest will follow.
(Shahid Qureshi appears as analyst on Al-Jazeera, Press TV, MBC, Kazak TV (Kazakhstan), LBC Radio London. He was also international Presidential election observer for Kazakhstan, 2019, 2016 and 2015, Azerbaijan, 2020, 2018 and Pakistan 2002. He has written a famous book "War on Terror and Siege of Pakistan" published in 2009. He wrote his MA thesis on 'Political Thought of Imam Khomeini' and visited Tehran University. He is PhD in 'Political Psychology' also studied Law at a British University. He also speaks at Cambridge University and visiting professor in Hebe University in China)
Disclaimer: views expressed are not of The London Post