Ambassador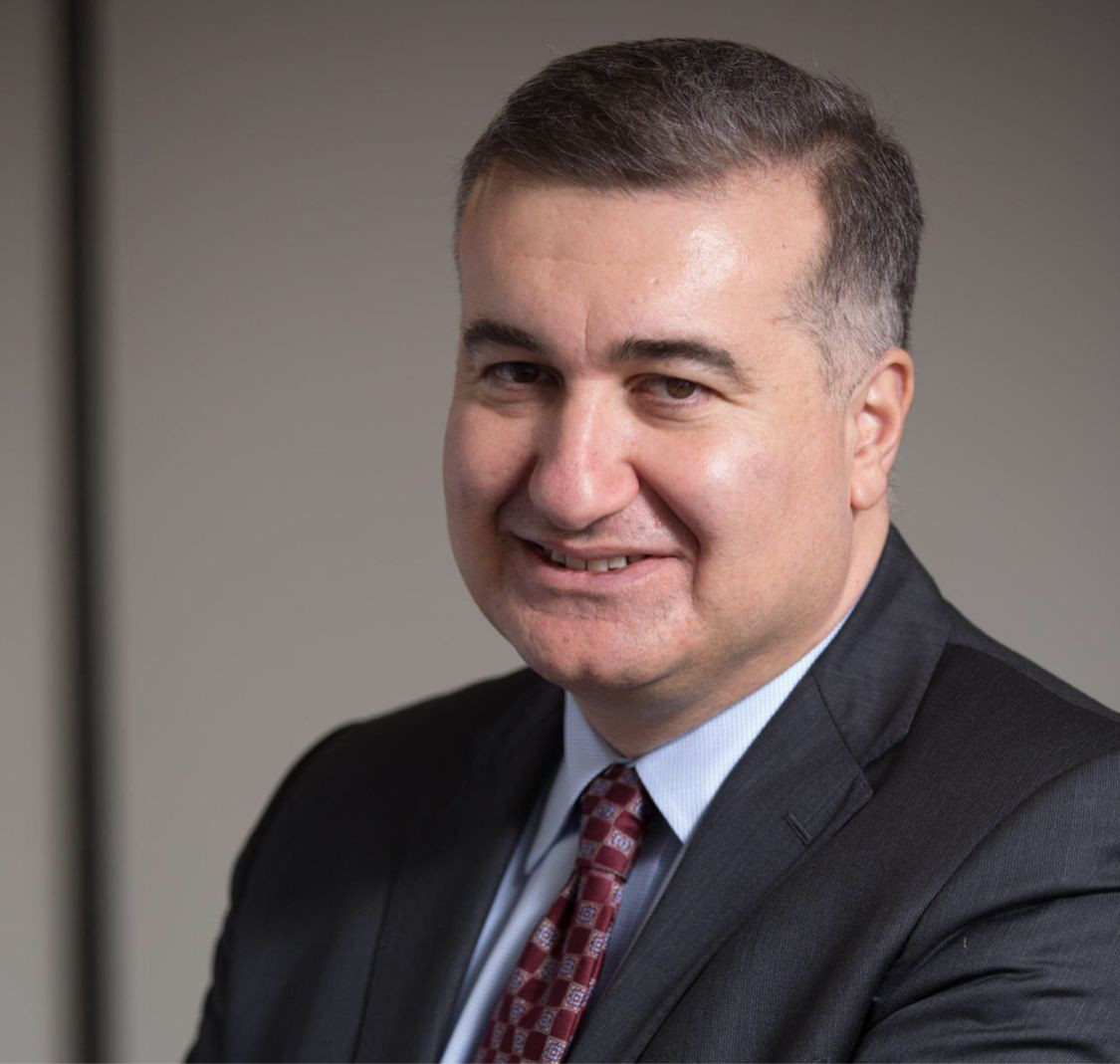 Ambassador Elin Suleymanov
In July of 2021, the President of the Republic of Azerbaijan Ilham Aliyev appointed Elin Suleymanov as Ambassador to the United Kingdom of Great Britain and Northern Ireland. Prior to that Mr. Suleymanov served as Azerbaijan's long-time Ambassador to the United States of America for a full decade representing his nation's interests in the dynamically changing environment of Washington. From 2005 to 2011, as the nation's first Consul General to Los Angeles and the Western States, Mr. Suleymanov led the team, which established Azerbaijani diplomatic presence on the West Coast. Earlier, he served as Senior Counselor at the Foreign Relations Department, Office of the President in Baku, Azerbaijan and as Press Officer of the Azerbaijani Embassy in Washington, DC. Mr. Suleymanov's experience before joining diplomatic service includes working with the United Nations High Commissioner for Refugees in Azerbaijan and Glaverbel Czech, a leading manufacturing company in East-Central Europe.
A graduate of the Fletcher School of Law and Diplomacy in Medford, Massachusetts, Mr. Suleymanov also holds graduate degrees from the Political Geography department of the Moscow State University, Russia, and from the University of Toledo, Ohio. Mr. Suleymanov has authored numerous articles and is a frequent presenter at academic events. He speaks Azerbaijani, English, Russian languages.
Wikipedia article on Elin Suleymanov
Selected articles and interviews by Elin Suleymanov:
2023
Interview with Ambassador Suleymanov on TRT World
Interview with Elin Sulyemanov on Times Radio
Letter: Don't dismiss Azerbaijan's concerns over Karabakh
2022
Armenia, learn from Abraham Accords, make peace with Azerbaijan -opinion - The Jerusalem Post (jpost.com)
Restoring peace in the Caucasus - the Azerbaijani perspective (telegraph.co.uk)
Economist: " The fundamental question facing the region at this moment is...."
DİPLOMAT MAGAZİNE: NATIONAL DAY MESSAGE
HE Elin Suleymanov on Caspian Regional Dynamics
Elin Suleymanov, Ambassador of Azerbaijan in the UK writes for London Business Matters magazine
Ambassador Elin Süleymanov gave interview to London Diplomat Magazine's September-October, 2021 issue
Episode 25 | Azerbaijan's Elin Suleymanov has been ambassador in the UK, the US and Comedy Central
Azerbaijan is ready to provide Europe with emergency gas supplies
Elin Sulimanov, @ElinSuleymanov, Ambassador of the Republic of Azerbaijan to the Court of St James.
Ambassador @ElinSuleymanov spoke to @markaustintv @SkyNews on prospects for peace between #Armenia and #Azerbaijan, impact of the #Russia #Ukraine crisis and energy security in Europe.
2021
Farewell note from Ambassador Suleymanov https://www.facebook.com/163919547042338/posts/3716849041749353/?sfnsn=mo
Conference of Presidents Farewell to Amb. Elin Suleymanov of Azerbaijan https://www.youtube.com/watch?v=ok5Wh_5RKNc
https://azeritimes.com/2021/08/20/rabbi-marc-schneier-hosted-a-farewell-luncheon-in-new-york-city-in-honor-of-h-e-elin-suleymanov/
https://collive.com/rabbi-joins-turkish-ambassadors-farewell-for-colleague/
Biden Must Press Armenia to Hand Over Minefield Maps
Seizing the Opportunity for Lasting Peace Between Armenia and Azerbaijan | Opinion
The relentless pursuit of happiness in the war-damaged South Caucasus. @ElinSuleymanov Azerbaijan Ambassador to the United States
2020
Armenian provocations against Azerbaijan defy common sense about the promise of the South Caucasus. @ElinSuleymanov, Ambassador to the United State from the Republic of Azerbaijan.
Why is Russia arming Armenia and what is to be done? The interview of @batchelorshow with Ambassador Elin Suleymanov
Azerbaijan to UAE: Four ways you will benefit from peace with Israel
Rumblings of regional strife in the Caucasus could make its way to IsraelAzeri Amb.: If Israel nixes annexation, ties with Muslim states to improve
Azerbaijani ambassador: Border hostilities may harm Israeli oil supplies
Amb. Eli Suleymanov: Our Dispute With Armenia and Regional Security
Special Issue: Exclusive Interview with the US Ambassador to the United States on the Situation with COVID-19 and the Embassy
30 Faces of Islam for the 30 Days - H.E. Elin Suleymanov
Azerbaijan locks down against the virus while Armenia continues provocations in Nagorno-Karabakh
The watchful Azerbaijan at Nowruz 2020 in the time of the virus
On the Road to Baku. Azerbaijan: former Soviet state blooms into a real democracy
2019
FROM THE FRONT LINES OF THE AZERBAIJANI-ARMENIAN HOT CONFLICT OVER NAGORNO-KARABAKH, BATCHELOR SPEAKS WITH THE AZERBAIJANI AMBASSADOR TO WASHINGTON.
The Nagorno-Karabakh tragedy at the White House.
Sniper attack while the OSCE inspects the Nagorno-Karabakh frontline & What is to be done? @ElinSuleymanov
We asked ambassadors where they eat when they're homesick. We did not expect Taco Bell and Ikea.
Azerbaijan's religious tolerance is a guidepost for the USA. @ElinSuleymanov azembassy.us
AJC Philadelphia/SNJ Hosts Republic of Azerbaijan Ambassador
Event Recap: A Public Address His Excellency Elin Suleymanov
Elin Suleymanov: Being Muslim doesn't mean we are anti-Israel
Welcoming of Ambassador of Azerbaijan Elin Suleymanov at the Utah State Senate
Welcoming of Ambassador of Azerbaijan Elin Suleymanov at the Utah House of Representatives
Podcast: An Interview With the Ambassador of Azerbaijan
Ambassadors Recommend the One Book to Read Before Visiting Their Country
2018
Elin Suleymanov: If music is the soul of Azerbaijan, Chingiz Sadikhov was its interpreter
THO Ambassador Series: A Conversation With His Excellency Amb. Elin Suleymanov
Azerbaijan's Diplomatic Couple in Georgetown
THO Ambassador Series: A Coservation with his excellency Amb. Elin Suleymanov
ISO Celebrates International Education Week with Azerbaijani Ambassador
Azerbaijan ambassador to U.S. discusses his country's relationship with Russia, Iran, and the world
Azerbaijan's Diplomatic Couple in Georgetown
On the Road to Azerbaijan: The tragedy of Nagorno-Karabakh and the prosperity of Azerbaijan.
Everyone in the Caspian Basin has the same vision: natural resources and other goods travelling across the Caspian to the Port of Baku and thence to Europe and the rest of the world. —H E Elin Suleymanov, ambassador of Azerbaijan to the United States
Celebrating the Centennial of the Republic of Azerbaijan
On the Road to Azerbaijan: Trump supports Azerbaijan's energy security pipelines from the CaspianSea to the Adriatic Sea
The tragedy of the dishomed in the unending Nagorno-Karabakh War.
Christian and Jewish Leaders Honor Muslim Country's Ties With Israel, on Capitol Hill
Azerbaijan has 'pioneered' Israeli ties with Muslim world, says ambassador
Top Azerbaijani Diplomat in US Praises Growing Ties Between Israel and Muslim World
Heydar Aliyev Award Presentation at Mediridian House
The Silk Road Promise of Baku and the South Caucasus & What is to be done? @ElinSuleymanov
Azerbaijan's ambassador to the U.S. says he's impressed with Trump's Russia approach (2018)
Azerbaijan at the Strategic Crossroads of Eurasia
Elin Suleymanov: If music is the soul of Azerbaijan, Chingiz Sadikhov was its interpreter
2017
HE Elin Suleymanov, Ambassador of Azerbaijan
Azerbaijan Ambassador Suleymanov discusses final pipeline route connecting Caspian to Europe
Azerbaijan ambassador warns of 'dangerous escalation' with Armenia
Formula One discovers Baku. Washington discovers the Trans-Caspian Trade and Transit Corridor.
Arms Open To All // An Azerbaijani Ambassador Talks About His Country's Unshakable Bond With The Jewish People
Azerbaijan is the railroad crossroads of Eurasia. Elin Suleymanov
Azerbaijan discovers mighty Comedy Central. Mighty Comedy Central discovers Azerbaijan.
Ambassador Elin Suleymanov speaks at the Azerbaijan Republic Day and Armed Forces day celebration
Commentary: Azerbaijan a partner for economy, peace for state
Azerbaijan's Ambassadors On The Country's History, Economy And Elections
AZERBAIJAN WANTS PAN-ARAB SUMMIT WITH ISRAEL, ENVOY SAYS
2016
Muslim Ambassadors Receive Gift Menorahs At Hanukkah Party
Azerbaijan ambassador visits Oklahoma, looks to strengthen partnerships
The Road Ahead for Azerbaijan and the Caucasus
Unpacking the Nagorno-Karabakh Conflict and Its Ripple Effect on Israel's Region
Azerbaijan Ambassador Suleymanov discusses Armenian conflict
A Peaceful Settlement In The Caucasus Will Inspire Peacemaking Worldwide
2015
Azerbaijan's Ambassador Responds
A sporting moment for Azerbaijan
Keynote speech by Ambassador Elin Süleymanov, Ambassador of Azerbaijan to US
Why the United States needs Azerbaijan as the hub of the new Silk Road
How Does This Country, Neighbor of Iran and Friend of Israel, View the Iran Deal?
L'ambassadeur d'Azerbaïdjan invité par l'Université de Virginie aux Etats-Unis
Longtime ally Azerbaijan counts on U.S. reassurance
2014
Criticism of Azerbaijan Is Mistaken
Small country, endless possibilities
Azerbaijan's ambassador to US to discuss changing dynamics
Azerbaijan-Israel relationship is glimmer of hope, model for Muslim-Jewish peace
Azerbaijan-Israel relationship is glimmer of hope, model for Muslim-Jewish peace
Azerbaijani Ambassador speaks at University
Armenia and Azerbaijan, Engaged in a War of Words
Transatlantic Alliance: NATO Summit and Energy Security in Light of the Ukraine Crisis-2
Azerbaijan's treatment of dissenters
Azerbaijan's ambassador talks about energy security with Oklahoma leaders
Global Energy Security town hall looks at role of Azerbaijan
Hinckley Forum: The U.S. - Azerbaijani Relations and Unresolved Karabakh Conflict
Azerbaijan Ambassador and Congressman Henry Cuellar Visit UIW Students and Community
Azerbaijan ambassador visits campus
2013
Amb. Suleymanov: Azerbaijan piles up the building blocks of democracy
Azerbaijani ambassador discusses close relationship with U.S. and Israel
Azerbaijan ambassador comes to IU
Elin Suleymanov, '94, College of Languages, Literature and Social Sciences Outstanding Alumnus Award
Azerbaijani Center of Houston hosts National Flag Day event
Amb. Elin Suleymanov (Republic of Azerbaijan)
Ambassador Suleymanov speaks at "This is America and the World" by Dennis Wholey
Husband-Wife Diplomats Introduce U.S. to Their Emerging Nation
Caspian Sea gas pipeline would advance US energy interests
DTRA Director, Azerbaijan Ambassador Discuss Defense Cooperation
Azerbaijan ambassador/UT alum to visit campus March 11
Azerbaijani Ambassador makes speech in conference in U.S.
Elin Suleymanov, Ambassador of Azerbaijan to the United States
Azerbaijan Ambassador visits Reves Center
Interview with the Diplomatic Connections
Video Interview with Diplomatic Connections
Ambassador: Different memorials teach similar lessons
2012
Fueling the Fire: Azerbaijan, Iran, and the World's Energy
International song contest shines light on changing Azerbaijan
Prospects for prosperity in the Caspian Basin
Strategy Session with Elin Suleymanov, Ambassador of Azerbaijan to the United States
2011
Azerbaijani Consul General presents four MSU students with Award for Excellence
Symbolism vs. Reality in the Caucasus - More Reality is Needed (May 25, 2011)
2010
America needs long-termregional strategy
The Price of Freedom: Remembering January 20, 1990; The Huffington Post
2009
The Promise of Visionary Pragmatism
Making history in person: View from Azerbaijan
2008
Azerbaijan Consul General Elin Suleymanov speaks in Colorado (
Azerbaijan, Wyoming share same values, by Elin Suleymanov Wyoming News
2007
2006
Expanding Westward - Azerbaijan International, Autumn 2006, (14/3)
Expanding Westward. Azerbaijan Opens New Consulate in Los Angeles
2004
ELIN SULEYMANOV, MALD 2004, AZERBAIJAN
Emergence of New Political Identity in the South Caucasus
2000
"Ali and Nino" by Kurban Said. Inside the Soul of a Caucasian. Book Review by Elin Suleymanov
1998
Boxcars, Dugout Shelters and Promises to Keep. Azerbaijan's Refugees
1996
Youth in Search of the Future. Identity Changes in Post-Soviet Azerbaijan
1994
Youth in Search of the Future. Identity Changes in Post-Soviet Azerbaijan. Guest Editorial by Elin Suleymanov